Stone Grain Mill Attachment for Stand Mixers
Regular price

$228.00 USD

Regular price

Sale price

$228.00 USD

Unit price

per
The Mockmill Grain Mill Attachment is made by world renowned grain mill designer and manufacturer, Wolfgang Mock.
It turns your  KitchenAid or Kenmore model stand mixer into a household flour mill in seconds. Easily adjust it to grind grain to the exact texture needed.
Numerous patents and close cooperation with suppliers led to the invention of the self-sharpening Corundum grinding stones used in Wolfgang Mock's grain mills. Highest quality standards paired with European artisan manufacturing deliver a superior product with outstanding design and craftsmanship and a 2-year warranty. The Mockmill represents the sum of 30 years of experience and innovation by Wolfgang Mock.
Particulars: The Mockmill will grind from coarse to very fine and will handle all wheat grains and non-oily grains, medium sized beans, corn, and non-oily spices. Corn (aka field or dent corn) is probably about as large a grain as you'd want to feed it. When set at the finest milling setting, the flour feels as fine as what you get at the finest setting on the higher end KoMo mills.
At full speed, the mill will operate at about 70% of the output of the KoMo Fidibus mill which puts it at about 2.4 ounces/minute. Also at full speed, it will not heat the flour to more than about 105 degrees Fahrenheit, well below the level where flour can be damaged.
The stones are self-sharpening and designed to last for decades. It's easy to disassemble for cleaning if needed. When tasked with "killing" (burning out) the standard size KitchenAid or Kenmore mixers, Mockmill engineers were unable to so. The mill is specifically designed to not put excessive load on the mixer. Even milling nearly 50 lbs of grain continuously over a 6-hour span resulted in only a few degrees above the normal rise in temperature of the KitchenAid mixer.
*KitchenAid and Kenmore stand mixers are sold separately. KitchenAid is a registered trademark of Whirlpool Inc./USA.
Mockmill Attachment For Stand Mixers Manual
Compare Mockmills
Share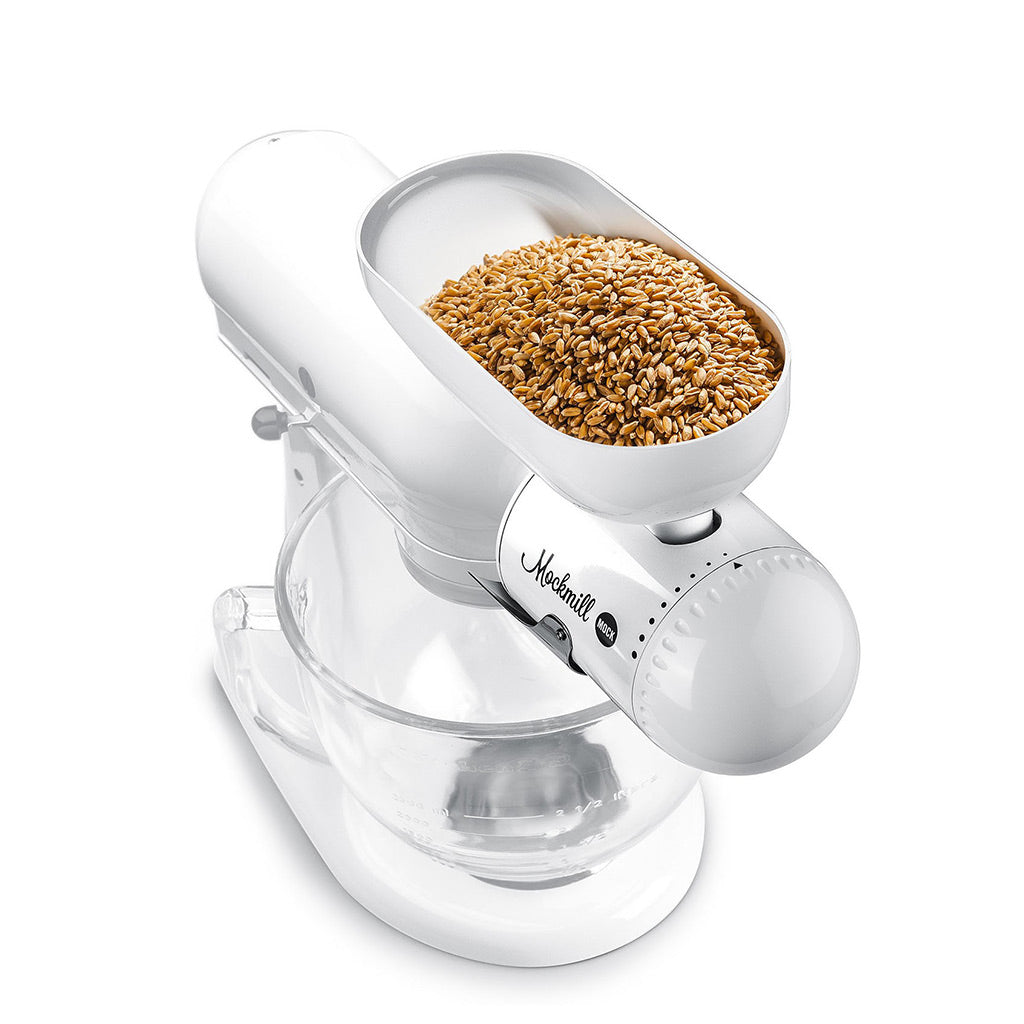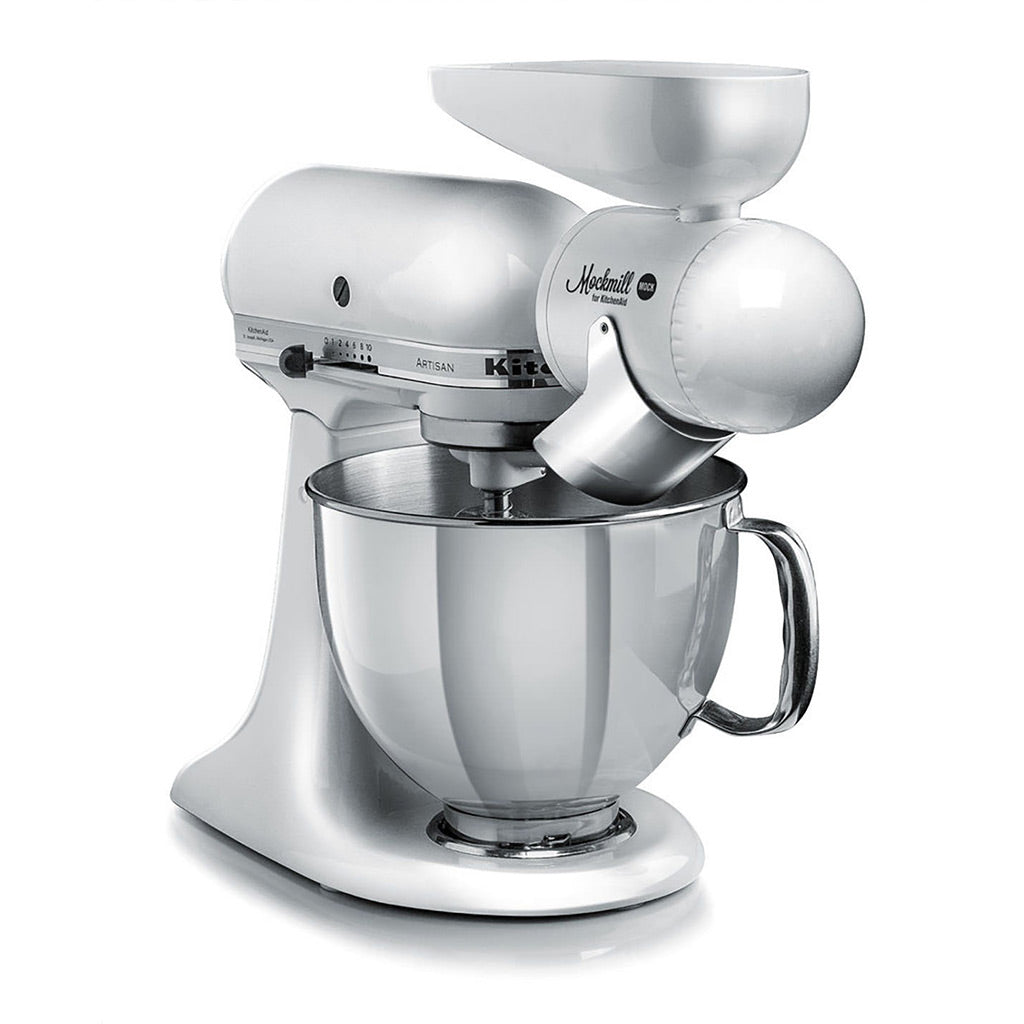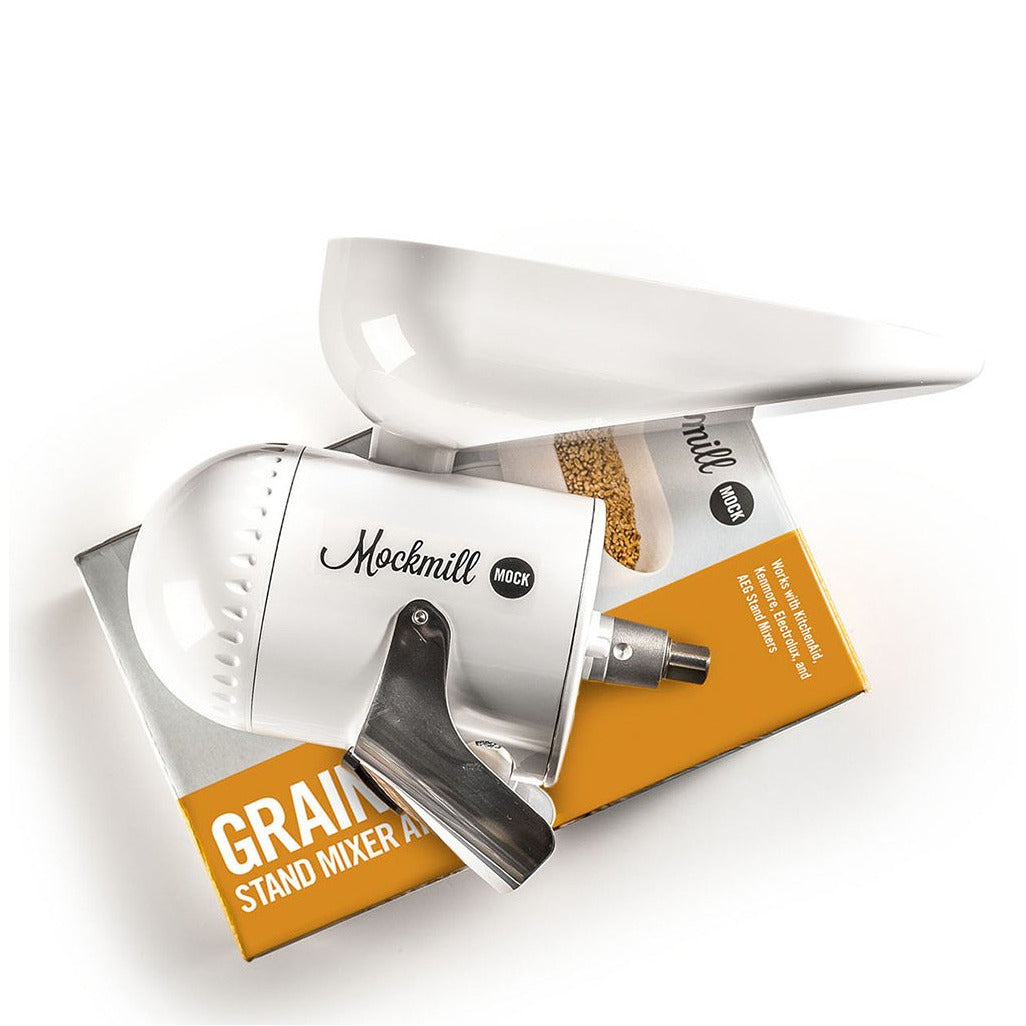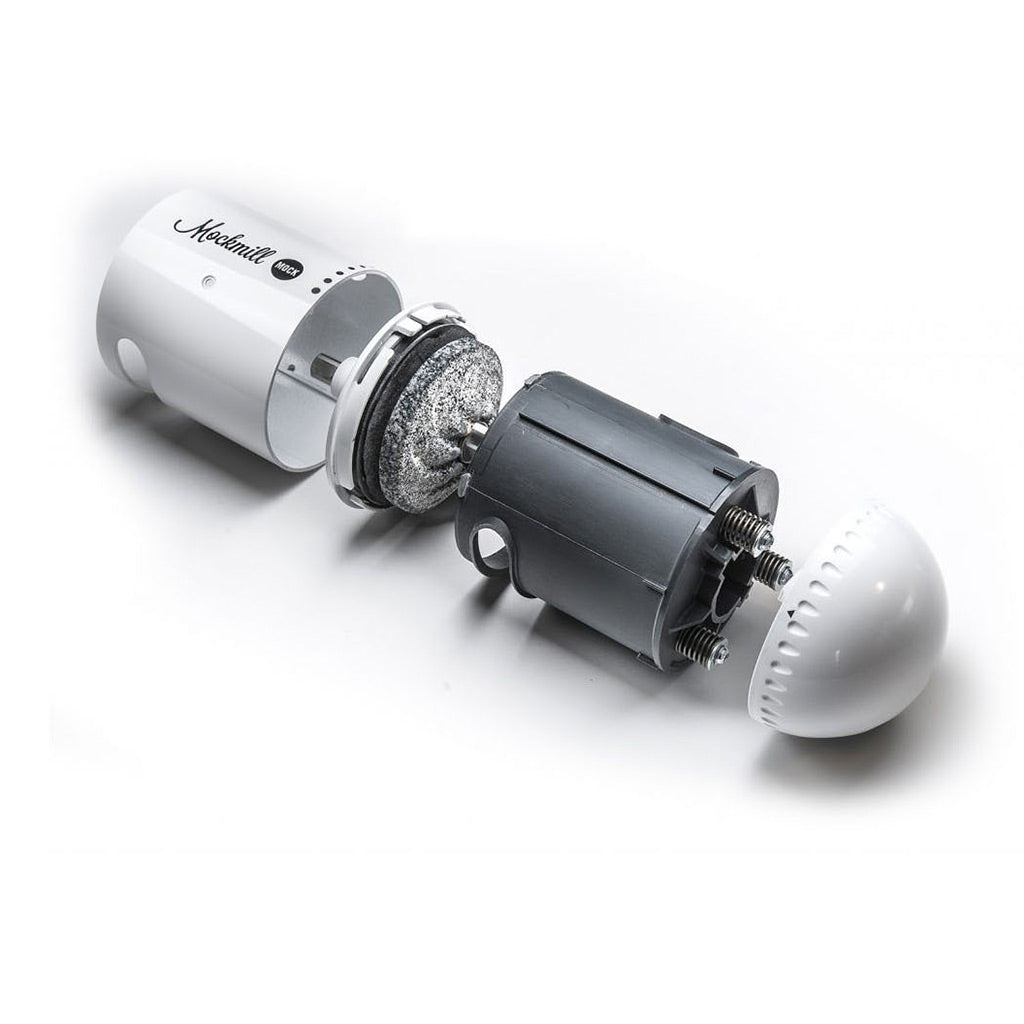 Very happy with this mill!
Grinds nice flour, easy to disassemble to clean the stones if needed, easy to store, and gives another use for my Kitchenaid mixer since I don't use it as much anymore since switching to stretch and fold kneading. I don't have any experience with any other mills, but this one gives me no reason to look at another. So far I've ground wheat berries and brown rice- both work well with this mill. My only small hesitation about the mill is that the housing is plastic and I'm a little worried that someday it might crack if taking apart to clean- however, I don't expect that to happen anytime soon and expect this mill to last many years. It is very cool to open up the housing and see real stones inside! I have an older Kitchenaid and haven't had any problems at all with overheating- there seems to be no extra stress on the mixer at all. Very happy with this mill!
I am VERY pleased with my Mockmill
I am VERY pleased with my Mockmill purchase and at this point, I have to say that the Mockmill exceeds my expectations. It's faster than I thought it would be, ease of use is VERY high and the product is solid. Most importantly, it's given me a whole host of new options to try and I don't have to worry about whole wheat and other flours going rancid before I use them.
And that was the primary reason I wanted a grain mill. For me and my family, it wasn't about health, or Omega 3 fatty acids, or a whole host of valid nutritional concerns. All of that's fine and more power to you if that's your motive. For me, however, it was about taste, new options and new baking opportunities while being able to buy whole grains I might not use all that often — while allowing me to store them and ensure they were fresh to use whenever I wanted to use them. Next week, next year or even three years from now. Whole grain flours go "off" and rancid rather quickly, but whole grains can be stored for years — even decades. For all that, something tells me I am going to be buying a lot more whole grains and I don't see them lasting years in my grain containers, because this is too much fun!
Bottom Line: the Mockmill works and it works WELL. It opens up vast options in your grain and flour selections and it's fun to use. The product is very solid and mills a variety of finely ground flours right into the bowl of you KA stand-mixer very fast and ready to go. Buy with confidence.
I am quite pleased.
I bought the Mockmill from this site. I have never used a mill before so I don't have anything to compare it to. It is compact, which is great. It is loud, so I store ear protectors with it. I always grind on the finest setting and when I remember I chill the berries before grinding because it heats them (great suggestion from Eric on one of the videos). The grind is not uniform (I presume it isn't with any mill), but I have made cornbread with milled flint corn and wheatberries, and and pancakes with milled wheatberries (1/3 hard red, 2/3 soft white), and they have been excellent. I didn't sift. I view freshly milled flour as a new ingredient — different taste, different texture. If I were to attempt bread I would definitely sift the flour to remove the bran.
I love the fact that I have something new for my Hobart to do!
I received the Mockmill for Christmas. I have used it a couple of times now. I own a Hobart N-50, and because I follow Tartine bakery recipe, I only do stretch and fold, so my beautiful Hobart stays mostly in the cupboard…the Mockmill fits on it as it would a kitchenaid, however, the flour collar falls short of the bowl. I'm not sure if the neck of the Hobart is longer than a kitchenaid, but in any case, I just hold the bowl under the collar so the flour doesn't go all over the place. It is very efficient in grinding, and doesn't seem to retain much of anything between the stones. I measured 360 grams wheat berries, and after grinding I got 359 grams! Without sifting, the flour is pretty fine, perfect for bread making.
It works beautifully.
I have been using the Mockmill for several months now. While I grind grains at varying coarseness, I bought it specifically for grinding rye for traditional Scandinavian breads that use rye at different levels of coarseness. It works beautifully. Of course, no surprise to bread bakers, I no longer buy flour and grind own! I also learned that freshly sifted bran makes amazingly delicious bran muffins! I ordered several buckets and lids from them that now contain my grains. I selected the Mockmill over the Komo because the Mockmill takes no counter space and is safely tucked away until I need it.