Organic High Protein Bread Flour
Regular price

$159.20 USD

Regular price

Sale price

$159.20 USD

Unit price

per
Organic High Protein Bread Flour – 40 lb bags
Our 100% certified organic bread flour is milled from clean, high quality hard red spring wheat for optimal baking performance. At 13.5% protein level, this flour is ideal for bread baking when you need an extra strong rise. Use alone or in combination with whole grain flour when you desire a more open crumb.
Protein: 13.5%**

Ash: 0.60%
This is refined white flour that looks and feels like all purpose flour but is higher in protein by about 2-3%.
Unbleached

Unbromated

Unenriched

Certified Organic

Non GMO

Kosher – Orthodox Union
Our grain is grown by family-owned and operated farms — certified organic farms that are committed to ideals of sustainable stewardship of our natural resources for those of future generations.
Share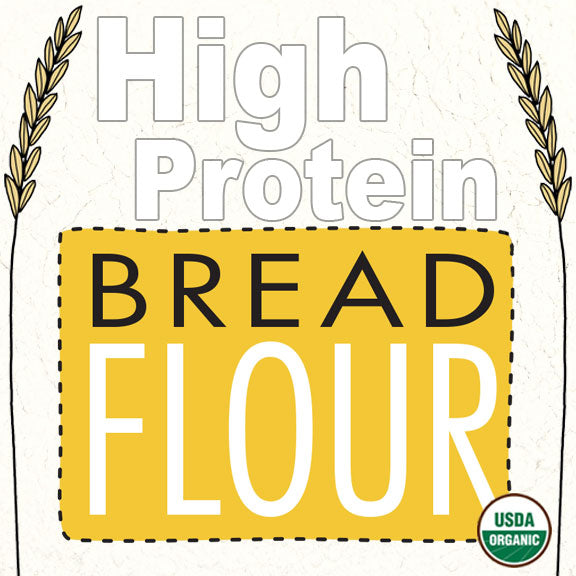 This organic bread flour is GREAT!
This is truly great organic bread flour. I have been making all my bread lately with a 3:1 ratio of bread flour to whole rye flour. I do a quick proofing no knead peasant bread recipe where I use 2 cups of my sourdough starters that I recently made (a sourdough rye starter with the whole rye flour product, and a sourdough white starter with this bread flour). I use 1 cup of the sourdough rye starter and 1 cup of the sourdough white starter in my recipe.
The loaves come out really great!
AND…the price of this organic bread flour is GREAT!
This flour is absolutely amazing!
I bought this flour purely because it's organic and I'm trying to incorporate more organic foods in my diet. To my surprise this flour is absolutely amazing! My bread has never tasted so good. I will never buy any other flour.
The most beautiful rise!
This flour, used with sourdough recipe from this site creates the most beautiful rise in proofing. It is ready to go into the oven now… I cannot wait
Results amazing!
My diet is almost 100% organic except for bread flour. I've been making my own bread since 1979 with rare exceptions. It's not easy to find organic BREAD flour let alone without breaking the bank. Found this site and made a few loaves which includes some organic hard white whole wheat UNIFINE flour I buy through a co-op. Results amazing. I just use the basic Kitchen Aid recipe except for the 1 cup of the UNIFINE. The rise is like what you see in a store. Now will try some Breadtopia recipes.
I love this flour!
It is the best bread flour I have ever used. It makes the most amazing sourdough bread. It comes in very sturdy bags, not flimsy paper.