Oblong Brotform Proofing Baskets (set of 6)
Regular price

Sale price

$90.00 USD

Unit price

per
Comes in a set of 6 
Oblong Brotform Proofing Basket
We have a little bit of a fetish for bread proofing baskets (also called brotformsand bannetons). So we're constantly looking for the ultimate proofing basket and we have tried all of them. For a time our favorites had been the European-made, coiled rattan baskets that we've carried in our store. They are very good quality, but also a bit expensive.
We've looked at lower cost samples from Chinese suppliers, but the quality is noticeably inferior (both the rattan quality and the manufacturing quality) and we didn't want to use them ourselves so that means we couldn't sell them to you either.
The best rattan in the world comes from Indonesia. In fact, Indonesia is the world's leading exporter of raw rattan and some of that raw Indonesian rattan is what the European proofing basket makers are using. But when an Indonesian rattan farmer is standing in his warehouse deciding which rattan to send to Slovakia and which to send next door to his brother's basket making workshop, where do you think the best stuff goes?
And speaking of that basket making workshop next door, the culture of Indonesia is inextricably linked with handcrafts. Small craft shops are literally everywhere in Indonesia, and you could make a strong argument that the artisans of Indonesia (which is a huge percentage of the population) are the best in the world at making things with their hands.
All of which came together for us recently when we were very fortunate to connect with a small Indonesian handcraft company that specializes in rattan furniture and baskets who are now employing a group of native artisans to make all of our proofing baskets by hand from the incredible quality rattan supplied by local farmers.
By working directly with our Indonesian colleagues and cutting out virtually all of the middlemen usually involved in the process (including the expense and extra carbon footprint of shipping rattan to Europe only to then ship that same rattan in basket-form to the U.S.), we are able to bring these truly exceptional quality, hand-made proofing baskets to market at much better prices than similar, machine-made coiled rattan baskets from other parts of the world.
We get great baskets at great prices and at the same time help to support a native handcraft culture engaged in producing sustainable goods. What a win-win!
How to Use: Dust the proofing basket with flour and the risen dough drops easily onto your baking surface. For proofing very wet doughs, as called for with the popular no knead bread recipes, for example, the optional cloth liner (see below) is the simplest solution. Working flour (rice flour is particularly effective) into the cloth liner will release wet dough.
Inside dimensions: Approximately 12 1/4″ x 5″ at the rim. Sides of basket taper down to the base which is 10 1/4″ x 3 1/4″.
If you want a cotton liner for this basket, use this one.
Care Instructions: Cleaning the Brotform proofing basket is usually just a matter of tapping it on the edge of your kitchen sink. If necessary, rinse it out with hot water with your faucet in spray mode. Shake off excess water and place upside down over still warm oven to dry quickly. Don't use soap.
Share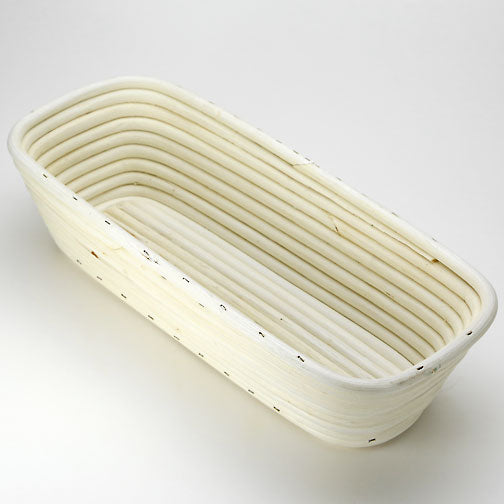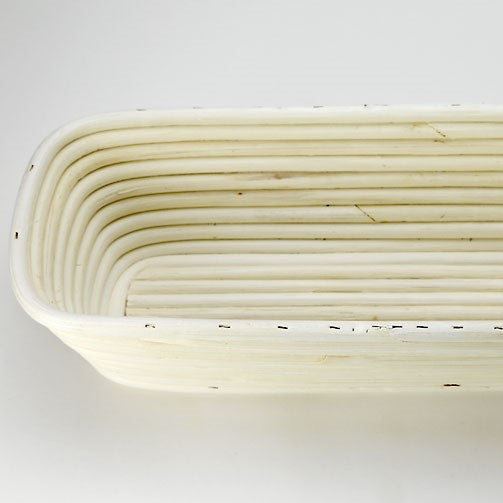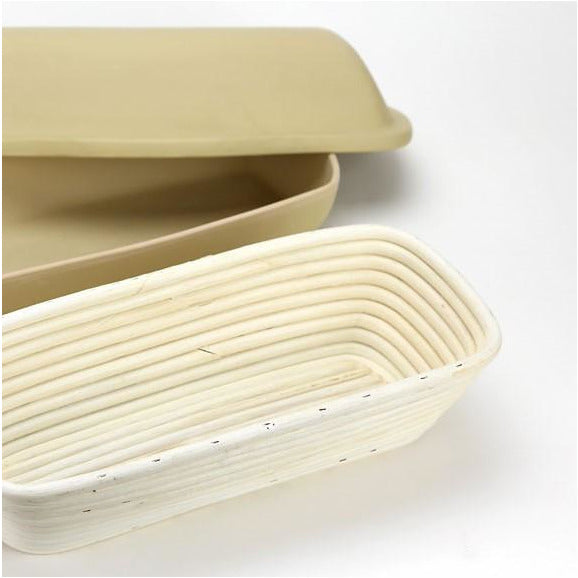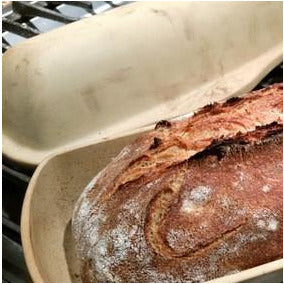 Perfect La Cloche Companion
After watching the video here, I purchased one. Finally!! … a way to proof my dough AND smoothly transfer it to my long La Cloche baker! Shipping was lightening fast and packaging was excellent! I received exactly what I anticipated!
Dakota Bread is delicious
I bought this a while ago, but somehow it ended up holding onions. Yesterday I pulled it out, brushed it off and used it to proof Stanley Ginsberg's "Dakota Rye." I have a variety of covered bakers but not one that would fit the proofed loaf, so I set up steam in my oven and baked it on a stone. Now I HAVE to order a covered clay baker that will fit future loaves proofed in this brotform! (Dakota Bread is delicious.)
Perfect!
I am *thrilled* with the two oblong proofing baskets I recently purchased. They are a great size — big enough, but not huge. I also ordered the oblong covered baker, and the Brod and Taylor proofing box, and the baskets work perfectly with both those items (yes, two baskets neatly fit into the proofing box). I did not get the liners, as I personally like the look of the floury stripes on my bread, and have not had any trouble with dough sticking, even with high hydration loaves. Just make sure the baskets are well floured. A great purchase!
Great combination of tools for me!
I bought this to use with the new Breadtopia oblong clay baker and it works perfectly to proof dough in a shape to fit the baker.
huge fan!
I purchased two of these many years ago and they are as good as new after hundreds of risen loaves. In fact, they are better than new because they are seasoned and more sturdy than new. I lightly spray mine with non-stick spray and then use semolina flour to allow for a perfect release into the clay baker. Afterwards I run them under hot tap water and use a toothbrush to loosen the semolina. After that they drip dry and are ready for next time. When I first purchased them I remember wondering if they would hold up after dozens of uses, and I can now say yes indeed they do! These oblong baskets are a very nice product that I would rate as 10-stars if I had the option!